We are running a new feature where we highlight our amazing suppliers and let you know a little bit more about them. 
We caught up with Lorraine at Every1's FAVOURite so that you could all get to know her a little bit better…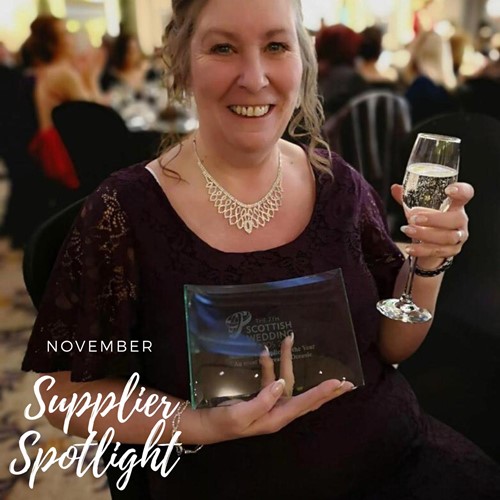 Tell us a little bit about yourself & your business?
I have been married for 26 years and have a grown-up son called Kyle who is 21. I run the business from my home in the small town of Bo'ness.
The business has went from strength to strength since it was founded 9 years ago. As well as wedding stationery we also make heart-shaped Scottish tablet to place in our personalised favour boxes. My Mum, Jean, is actually the tablet maker of the family and it's simply 'melt in the mouth' delicious.

All stationery is handmade and created to suit each individual bride to be. Appointments are made with myself to discuss ideas and designs providing an intimate personalised service for all clients with no time restrictions on appointments. I was absolutely thrilled to have won "Stationery Supplier of the Year" at The Scottish Wedding Awards earlier this year and to be a finalist at The Confetti Awards and more recently a finalist at The Scottish VOWS Awards. I have been supplying seating plans to The Dalmahoy Hotel for over 7 years and love working with team here and I am very proud to be part of that.
How did you get into the business?
The business started after we helped with fundraising for my son's primary school, raising over £5,500 selling bars of my Mum's delicious tablet to parents/carers and their work colleagues. As it was so popular we had some enquiries from couples who loved it and wondered if we could incorporate it into wedding favours for their upcoming weddings. At the beginning it was mainly wedding favours-which helped us decide on the business name, Every 1's FAVOURite!!
It didn't take long for me to try my hand at making wedding invitations and this is when I found my new love! I never thought of myself as a 'crafting' person but quickly realised I had a real passion for creating bespoke wedding invitations and 'on the day stationery'.

What is the best part of your job?
I absolutely love meeting all couples as it's such an exciting and happy time in their lives and enjoy helping them design bespoke invitations to compliment their vision for their Big Day. It's such a joy to see the happiness in their faces when they collect their stationery. I couldn't ask for a better job>

The best piece of advice you can offer people getting married?
Try not to worry or stress about the little things. Relax and enjoy their wedding day as the day will pass so quickly.