OUR DOORS ARE NOW OPEN
(Updated Saturday 1st August)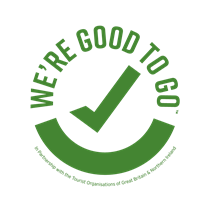 Dear valued guests and friends of Dalmahoy Hotel & Country Club, it gives me great pleasure to announce that:
OUR DOORS ARE NOW OPEN

WELCOMING YOU BACK 
Over the last few months we have been busy reviewing our entire operation to develop a thorough and extensive reopening plan.  Whilst our main priority has always been focused on giving our guests a first class experience, we will be doing everything we can to ensure the safety and wellbeing of every guest coming to Dalmahoy.  We have therefore made several changes to:

~The way we work
~The way we communicate and interact with colleagues and guests
~The way we deliver a first class experience whilst continuing to maintain our high standards of safety and hygiene at all times.
WHAT TO EXPECT ON YOUR RETURN
Dalmahoy Hotel & Country Club has always enjoyed a reputation as a welcome retreat from the stresses of everyday life; a glorious getaway where your cares fade away. We are working hard to ensure that none of the modifications on the way we work will compromise this experience. Our action plan will be carefully carried out to ensure our guests can continue to focus on having an enjoyable experience with us.

Please visit our Covid-19 Updates page here for up-to-date information regarding our safety procedures, as well as information on our planned services and activities available during August.

If you are considering visiting us in the future, we ask that you familiarise yourself with our new approach and help us protect the wellbeing of everyone who comes to Dalmahoy.

GOLF & LEISURE
Our Championship East Course and Resort West Course are open to members, hotel residents and visitors. We have been following the guidance from Scottish Golf and have installed a suitable framework for safe play.  This framework aims to protect the health and wellbeing of our golf team, our members and guests. 

Our Leisure Club and Beauty Salon remain closed in line with Government guidance. We do not yet have an opening date confirmed for these services.

Our thoughts go out to anyone who has been impacted by COVID-19 – particularly our incredible frontline NHS staff and key worker groups across Edinburgh and the whole country.

We would like to thank you, our loyal customers, for your patience during this unprecedented time. 

We look forward to welcoming you back to Dalmahoy.

Best wishes,


Alistair Kinchin
General Manager