OUR DOORS ARE OPEN
(Updated 21st October)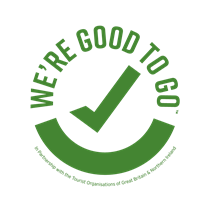 Dear valued guests and friends of Dalmahoy Hotel & Country Club,
---OUR DOORS ARE OPEN---

WELCOMING YOU BACK 
Whilst our main priority has always been focused on giving our guests a first class experience, we are doing everything we can to ensure the safety and wellbeing of every guest coming to Dalmahoy. 

Since reopening, we have therefore made several changes to:
~The way we work
~The way we communicate and interact with colleagues and guests
~The way we deliver a first class experience whilst continuing to maintain our high standards of safety and hygiene at all times.

WHAT TO EXPECT ON YOUR RETURN
We have always enjoyed a reputation as a welcome retreat from the stresses of everyday life; a glorious getaway where your cares fade away. We are working hard to ensure that none of the modifications on the way we work will compromise this experience.
Our updated processes and procedures will be carefully carried out to ensure our guests can continue to focus on having an enjoyable experience with us.

FACE COVERINGS
It is mandatory for face coverings to be worn by all guests when entering, exiting or moving around the hotel, or when not eating or drinking whilst sat at a table.

DINING & SOCIALISING
Further to the Scottish Government update on Tuesday 22nd September, it was announced that a maximum of six people from two households will still be permitted to meet together indoors in a bar or restaurant, with appropriate safety measures in place.

Following the latest Government announcement on Wednesday 7th October, we are required to temporarily suspend the sale of alcohol across the resort from Friday 9th October at 6pm until Monday 2nd November. We are also unable to allow guests to bring their own alcohol for consumption in our outlets. If you are due to stay soon and have yet to book dinner - due to limited capacity in our outlets - please contact us as soon as possible to make your dinner reservation.

Hotel residents - a maximum of six guests from two households - will still be permitted to meet together indoors in a bar or restaurant, with appropriate safety measures in place.

Our Cocktail Bar and Pentland Restaurant close at 10pm. Room service (no alcohol from 9th to 2nd November), with complimentary tray charges, will be available from 7am until midnight, 7 days.

Please note, all bars and restaurants at Dalmahoy are 1-metre plus physical distancing zones.
DINING
Breakfast, lunch and dinner in our Pentland Restaurant will be offered at tables for up to 6 guests, with a maximum of two households per table.

SOCIALISING
Our James Braid Bar and Cocktail Bar have been set-up to ensure 1-metre plus social distancing and adherence to the updated Government guidelines. We ask that:
All guests refrain from moving any furniture in the bars
As per the updated indoor gathering guidelines, all guests socialise in tables of up to a maximum of 6 people from two households per table
All guests follow these updated guidelines at all times in the bar, restaurant and across the full resort
GOLF & LEISURE
Our Championship East Course and Resort West Course are open to members, hotel residents and visitors. We have been following the guidance from Scottish Golf and have installed a suitable framework for safe play.
This framework aims to protect the health and wellbeing of our golf team, our members and guests.  Our leisure club reopened on Monday 7th September. Our reopening action plan has been carefully carried out to ensure our members and residents can focus on having an enjoyable experience with us on your return. We are required to suspend all group fitness classes at our leisure club from Saturday 10th until Monday 26th October inclusive.
Please note, we are operating a pre-booking system for all gym and swimming session slots, and the following guidelines provide further information and details on how to book.
Gym Guidelines - Members
Swimming Pool Guidelines - Members 
Leisure Club Guidelines - Residents 
Beauty Essentials is now open. Please call the Salon directly to book your treatment - full details here.

Our thoughts go out to anyone who has been impacted by COVID-19 – particularly our incredible frontline NHS staff and key worker groups across Edinburgh and the whole country. We would like to thank you, our loyal customers, for your patience during this unprecedented time.  We look forward to welcoming you back to Dalmahoy.

Best wishes,

Alistair Kinchin
General Manager